The 7 Best Tacos in Manhattan, New York City, America
Best Taco Places in NYC.
Taco is a Mexican traditional and signature dish. Simply we can explain a taco as hand-sized corn, or wheat tortilla topped with fillings. The main filling can be beef, pork, chicken, seafood, beans, cheese, organs, or vegetables. And they are topped with various condiments like salsa, guacamole, onion, lettuce, tomatoes, cilantro, vegetables, and chiles. Besides a squeeze of lime on all these fillings and condiments is a must. We love tacos for sure. So we wanted to praise it by making the best taco producers in Manhattan for all taco lovers.
We listed the 7 best tacos on Manhattan Island. Enjoy!
1.Taco Mix
Tacı Mix is a family-owned business since 1991. They served its first taco out of a food cart built by founder Jorge Sanchez. Twenty-nine years later, Mr. Sanchez, his son Alejo Sanchez and daughter Joana Sanchez continue to serve some of the best tacos in the city. They have classic tacos such as; Al Pastor, Suadero (Brisket), Oreja (Pig Ear), Buche (Pork Stomach), Tripa (Beef Tripe), Chorizo (Spicy Sausage), Taco Arabe (Oregano & basil marinated pork) or you can pick your meat as you wish from the menu. They have also fish and shrimp tacos. You can also try their own version of Michelada.
Taco Mix is one of the best places where you can get a unique taco experience in Manhattan, NYC.
Taco Mix
234 E 116th St #1, New York, NY 10029
Tel: +12122892963
2.Tacombi
Tacombi is a Mexican restaurant chain in NYC. You can eat some of the best tacos in Manhattan NYC here. The selections are very reminiscent of the delicious street food of Mexico. The vibe looks like it would be like 1950s Mexico city. They have a good selection of tacos. From Al Pastor to Carnitas and Baja Crispy Fish. Great authentic Mexican fare in a very stylish and relaxed retro atmosphere. Try steak tacos and watermelon margaritas made from fresh watermelon!
Tacombi
30 W 24th St, New York, NY 10010
Tel: +12122423491
3.Luchadores NYC
One of the best fresh Mexican food and tacos in Manhattan. Luchadores is a small restaurant but it has big tastes in it. They are specialized in tacos and burritos. You can prefer taco or burrito; Pollo Asado, Carne Asada, Chickarron, Cajun Shrimp, Panko Fish, and Veggie. Each ingredient is perfectly placed as if it is about to be photographed. Each food is beautiful to look at and they taste incredible. Also, the green sauce is amazing. The place is small but they have a seating area outside. Luchadores have a decent selection of beers to drink with your meal too. Enjoy!
Luchadores NYC
87 South St, New York, NY 10038
Tel: +19174093033
4. Taqueria St. Marks Place
Taqueria St. Marks Place is known for authentic Mexican dishes. But they also have the best tacos in Manhattan. When it is really hard to find good Mexican food Taqueria St. Marks Place is at your service. The Barbacoa taco here is particularly wonderful. And the bowl of chips and salsa that comes for free to start the meal is the perfect touch!
Bonus: They play cult classic movies they play on the tv screens.
Taqueria St. Marks Place
79 St Marks Pl, New York, NY 10003
Tel: +16469645614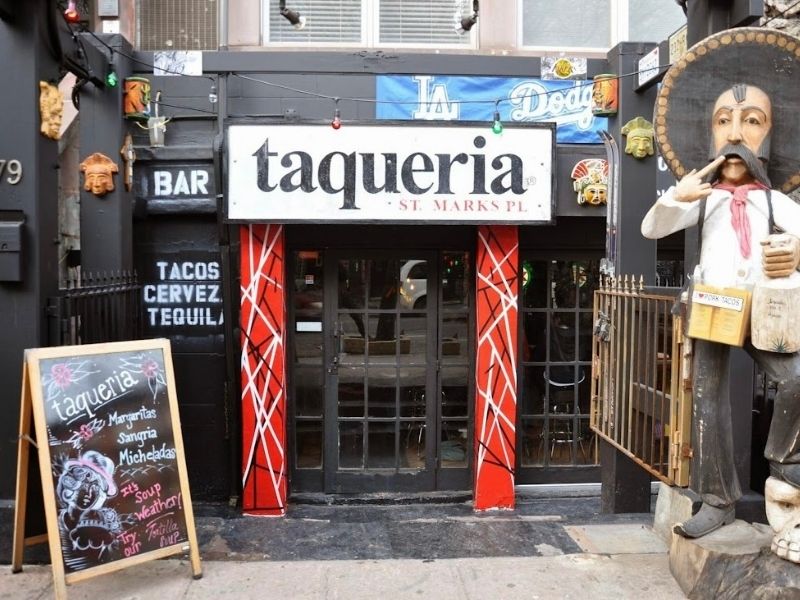 5. The Taco Shop
The Taco Shop is one of the best taco places in New York City. They have all Mexican beers and enchiladas. Some of the tacos are Beef Barbacoa, 8-hour braised short ribs, Pork Belly Taco which is served as savory pork belly w/ jalapeño, pickled red onions, and Cochinita Pibil which is slow-cooked pork baked in banana leaves with Yucatecan relish. In The Taco Shop post-Mexican cuisine combines the traditional with an exploration of modern, global flavors. But the most important thing is you should go there for brunch on Saturdays and Sundays between 12 pm and 3.30 pm.
The Taco Shop
166 West 4th Street, New York, NY 10014
Tel: +12126751955
6. Conmigo
People come to Conmigo to try Mexican classics. But they especially come here for the tacos. The large tasty portions and lively atmosphere will get you into the right mindset for a great Mexican experience. The Impossible taco is just phenomenal; which is great for vegetarians. The tacos are fairly priced and taste out of this world. They also have fresh corn tortillas.
Conmigo
1685 1st Ave., New York, NY 10128
Tel: +12122560056
7. Tacos Cuautla Morelos
If you are on the hunt for authentic Mexican food then you are lucky. Tacos Cuautla Morelos is one of them. They have great tacos; such as chorizo, shrimp, and shredded pork on their homemade tortillas. Their pork meats are very well cooked and seasoned – full of flavor and tender. The restaurant mentions itself as " Taco specialist serving burritos, tortas, quesadillas, huaraches & fajitas.". Al pastor taco is recommended.
Beware: It is a cash-only place.
Tacos Cuautla Morelos
438 E 9th St, New York, NY 10009
Tel: +13477725216
*You can find all the taco places on the map mentioned in this article below.